Sports Afield Preserve Series 24+4 Gun Safe With Electronic Lock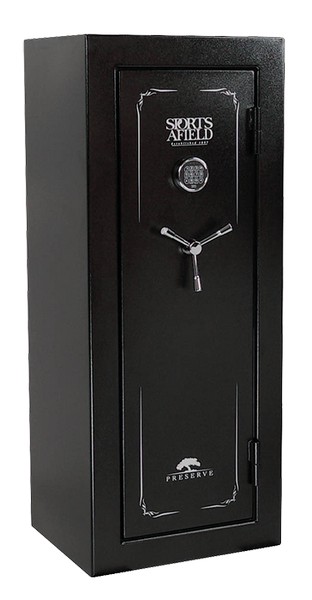 Fire protection for 40 mins at 1200?. Proven to maintain interior temperature of less than 350 degrees.
Water Proof for 7 days in up to 2' of water.
Electronic lock - programmable with anti-theft alert.
Override keys included - allows dual entry into gun safe either via electronic lock or override key
California DOJ approved.
6 large 1.5" steel bolts.
Chrome 3 spoke handle.
Exterior dimensions: 59" x 24" x 20".
Weight - 348 lbs.
Triple Seal
Color: Black - Black Texture.
FREE 1-Year Subscription to Sports Afield magazine with purchase, $27.97 value.

Interior Features:

Carpeted interior and sidewalls.
Standard Door Organizer maximizes storage space and offers quick access to commonly used items.
Single UL approved power-outlet.
Gun Capacity: 24 + 4.
Fully adjustable shelving.
One top shelf and three side shelves.
4 pre-cut anchor holes.

Industry Best Warranty
At Sports Afield we stand behind our products by providing the most comprehensive warranty in the industry. If a problem does arise, we provide exceptional customer service to resolve all issues. We want our customers to be completely satisfied with the purchase of their Sports Afield safe.

Lifetime, no hassle warranty against theft, fire and natural flood - free shipping.
Lifetime manufacturer's warranty on all parts, electronic lock, paint defects.
Quantity Available

Our Price

$948.00

Valued At

$1,099.00

Store SKU

322345

Manufacturer

SPORTS AFIELD / SA CONSUMER PROD